I'm antsy…because in typical Kailey fashion I am in need of an adventure!
Yes, some will say that I "JUST got back from Bali" or that I "go up to the cottage almost every weekend", but summer is short and if you know me, you know that I need to fill every possible crevice of it with adventure. I have a list that's a mile long filled with things that I want to accomplish (a list that seems to grow pages upon pages longer each summer). I can't believe it's already almost August! With the stress of our upcoming move and trying to de-clutter the house, I am in need of a distraction, and what better way than to get out there and take some photos! (yeah, yeah… I know… I've still got a backlog of Rome and Bali photos to do).
So needless to say I've been doing some thinking!
Masih and I have been dying to go to the Adirondacks in New York, so we're hoping to make it out this Fall with some friends. What better time to hike the  mountains then when it's filled with fall colours! It's also the first time we're going to try out AirBnB as  we'll be bringing the puppy along with us and feel a cabin may be a more comfortable bet. If we're lucky  we'll find a way to stop at either (or both) Letchworth State Park (left) or Watkins Glen State Park (right).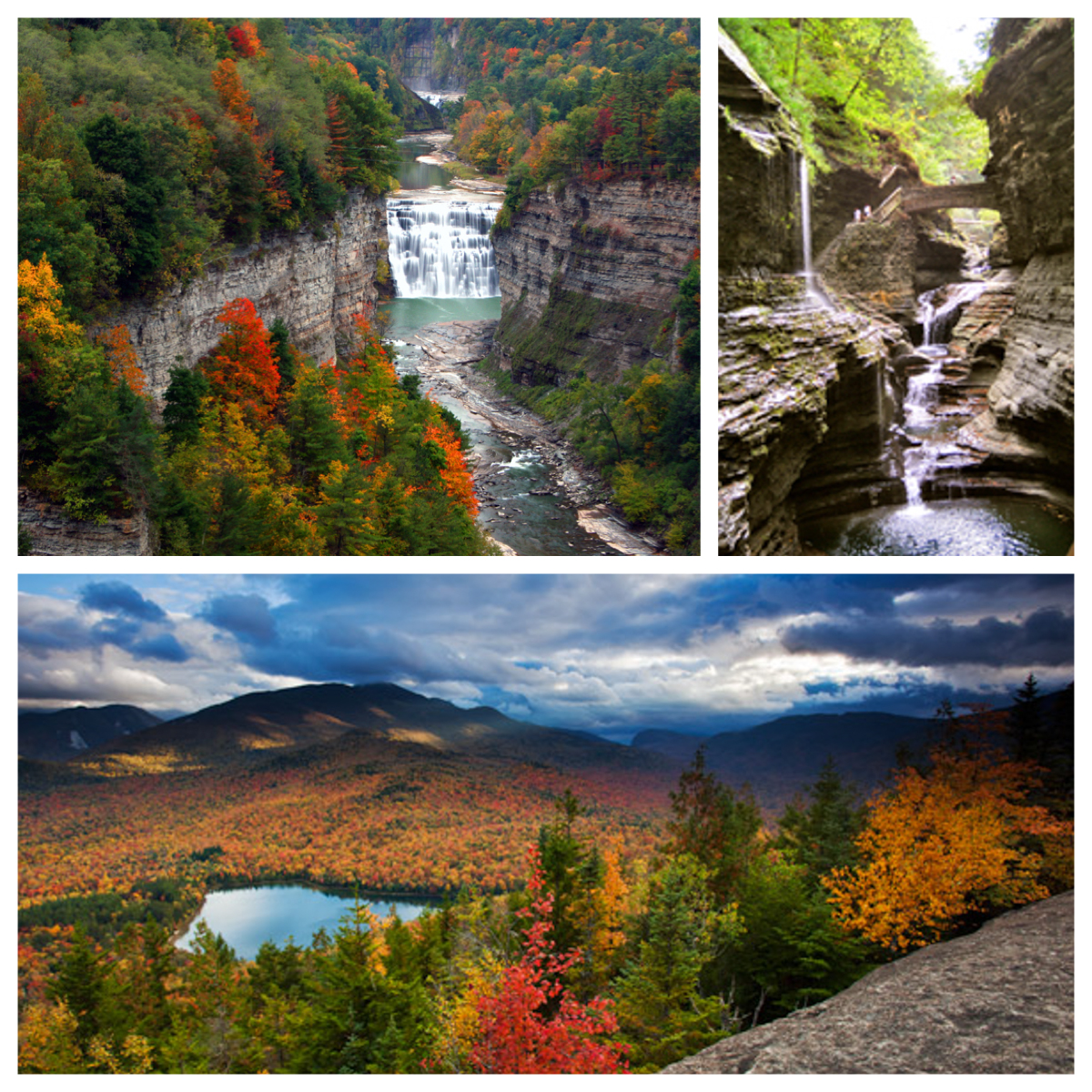 Speaking of the fall, we've also got a really cool train ride in October booked with some friends that takes us all through Credit Valley. Looking forward to this!
Next weekend we're escaping the city as the PanAm games are still on (which we are doing all we can to avoid) and I'm filling the weekend with day trips both days! Where will we go?
Tobermory is a must stop for us as we try to go every summer. We still want to do the glass bottom boat to Flower Pot Island (left) (yes, going every year we still have yet to visit the island). So maybe we'll head that way, stoping off in Lion's Head to explore the vast caves of Grieg's Cove (right).
Or maybe we'll venture off to MIchigan to see Turnip Rock (left). Better yet, maybe we'll head down to Kingston to visit Rock Dunder (right). 
What else is on our list to choose from (though most will probably have to wait for another summer)?
We'd love to take an RV and a week off work and head up to Thunder Bay. We've already got the route mapped out; visiting Cochrane to swim with the polar bears, looping around Lake Superior, hitting all the provincial parks along the way, Ouimet Canyon, Kakabeka Falls, Eagle Canyon and Sleeping Giant. Ah our dream trip through Ontario.
Or how about a road trip traveling through east Quebec and all its beauty! Then making our way to Gros Morne National Park in Newfoundland (the one province I've yet to visit).
Maybe a bit of jet boating in Montreal or Niagara Falls, Kite Surfing up in Collingwood, the Wolf howl in Algonquin Park, rock climbing at Rattlesnake Point, rappelling down a waterfall in Hamilton, take a bike winery tour through Niagara Region, backcountry camp in Killarney, camp in Bon Echo, learn to sail or take a hot air balloon ride. As you can see our list is long!
But for now, we've got a weekend filled with sliding the worlds longest water slide at Downsview in Toronto, beaches, exploring, bonfires, rock climbing at the Hub in Markham and good times with even better people. So thankful for the wonderful friends we have in our lives and getting to completely surround ourselves with them all year round!! Did we mention the weather is supposed to be ridiculously hot this weekend? No better way to cool off!
Sidenote: None of these photos are mine (as we have yet to see any of these places!)